Posted by Emily Schaeffer on Jun 15th 2022
There are few, if any, boundaries when it comes to creating a dish that will satisfy your physical and mental needs when training for a marathon, especially when using tasty granola from The Granola Factory. Professional runner and author Shalane Flanagan, along with her co-author Elyse Kopecky, have proved this time and time again by constructing their cookbook series, "Run Fast. Eat Slow." I have retreated to these books countless times to experiment with the fabulous recipes and my favorite granola.
A staple at The Granola Factory is using clean ingredients, which aligns with Flanagan's mission and my personal preference. When training, it is essential to fuel your body with foods that will push you further on your journey. I started running when I was in 7th grade, and for the past 13 years I've been able to combine my passions for the sport and cooking, which only continues to grow. I struggled with breakfast, so when I was introduced to The Granola Factory's products, my life in the kitchen and on the track improved immensely!
With an open mind (and a couple hungry teammates), I prepared breakfasts incorporating granola that satisfied every savory and sweet craving I had. One of my favorite recipes from "Run Fast. Cook Fast. Eat Slow." is the Sweet Potato Waffles (Or Pancakes- see recipe below). I love to whip up a huge batch and top them with any of the delicious flavors of granola that The Granola Factory has to offer! I have found this to be a great way to pack some vegetables into a sweet treat while carbo-loading after a "long-run Sunday."
Throughout my time experimenting with running and food, I have found that the easiest and most efficient way to ensure that I am getting what I need from my diet is to eat what I love. This may seem like a broad statement, but by following my intuition and understanding what my body needs, this has become second nature. Putting my body in touch with my mind when it comes to training and fueling, has taught me that proper nutrition is the first step in maintaining an active lifestyle.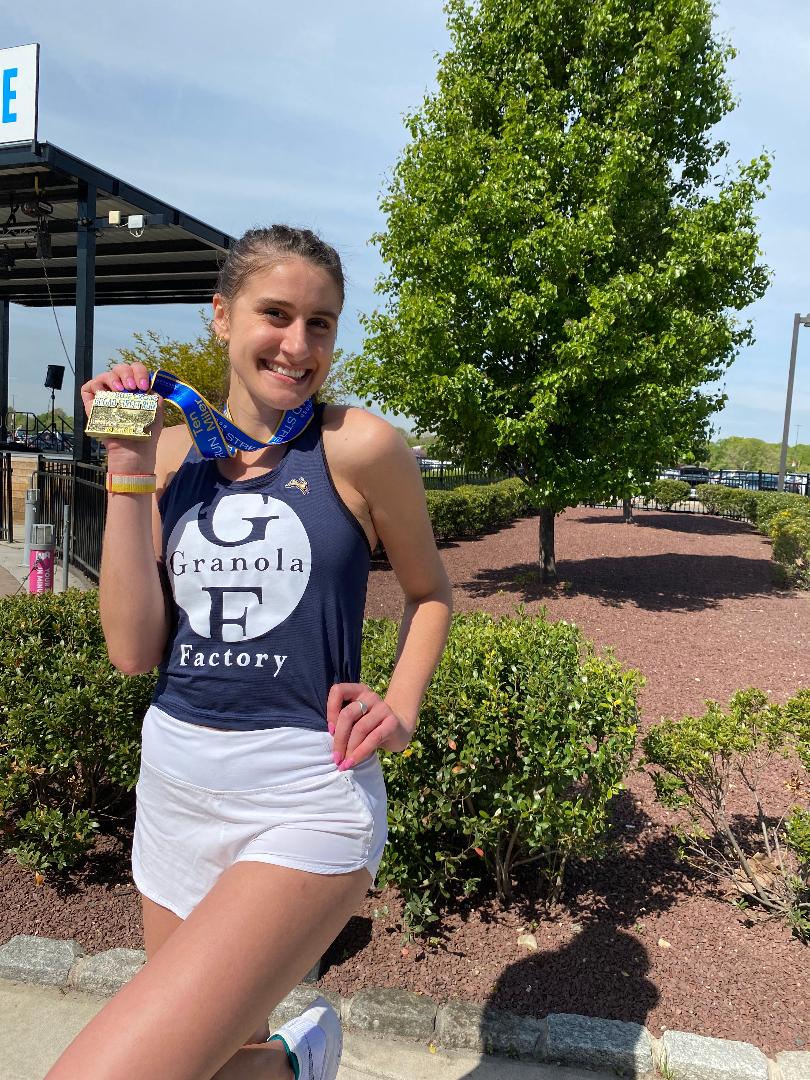 A key message in "Run Fast. Cook Fast. Eat Slow." is that nutritious and clean foods do not have to unobtainable for an on-the-go kind of person. Processed foods are quick and easy, but there are other options like any product from The Granola Factory (hint hint). Shalane and Elyse go above and beyond to provide recipes that are packed with the good stuff while requiring only a short stay in the kitchen. Does the saying "go with your gut" have a different meaning to you now? Trust your instincts; doing what you love while eating what you love certainly sounds like a perfect combination to me.
Sweet Potato Waffles (Or Pancakes) from "Run Fast. Cook Fast. Eat Slow." by Shalane Flanagan and Elyse Kopecky
Ingredients:
2 cups whole-wheat pastry flour
2 tablespoons coconut sugar (or white sugar)
2 teaspoons baking powder
2 teaspoons ground cinnamon
½ teaspoon fine sea salt
3 eggs
1 ¼ cups whole milk or unsweetened almond milk
1 cup mashed orange-fleshed sweet potatoes (yams)
4 tablespoons butter, melted
Steps:
1.In a large bowl, combine the flour, sugar, baking powder, cinnamon, and salt.
2.In a separate bowl, whisk together the eggs, milk, sweet potatoes, and butter.
3.Add the wet ingredients to the dry and mix just until combined.
4.To make waffles: Heat a waffle iron and brush with a high-heart oil. Ladle the batter into each waffle slot, being careful not to overfill. Cook until golden brown. Set the waffles aside and continue with the remaining batter.
5.To make pancakes: Add a little extra milk to thin the batter. Heat a large cast-iron pan or griddle over medium-low heat. Add a small amount of high heat oil to the pan and swirl to coat. Spoon the batter into the pan. Cook until bubbles begin to form in the center of the pancakes. Flip the cakes and cook until browned.
6.Store leftovers int eh fridge for up to 1 week or the freezer for up to 3 months. Reheat in the toaster.